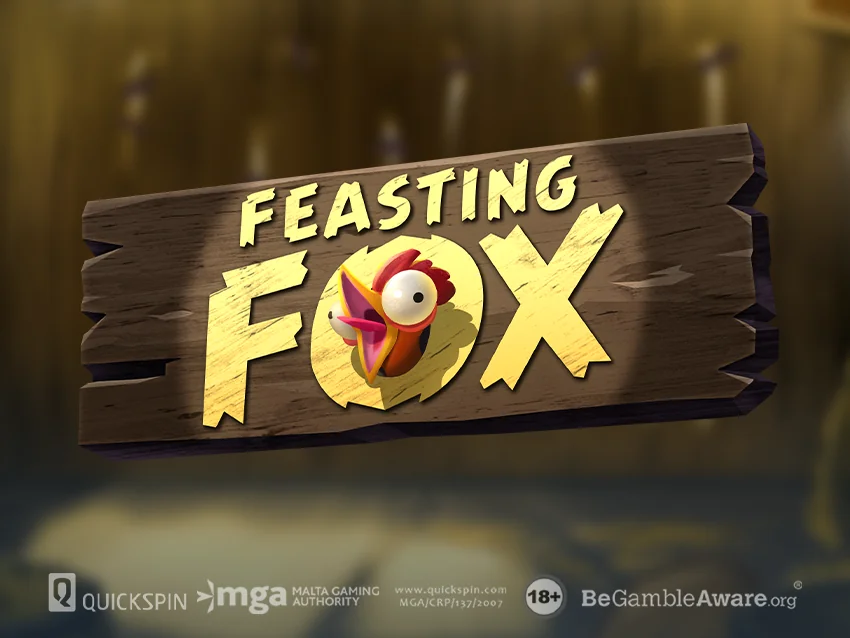 Feasting Fox: Quickspin's Enchanting Escape to a Hen House Wonderland
From the renowned creators at Quickspin comes a game that promises to enchant and delight. "Feasting Fox" transports players into a fairy tale realm where stunning artistry meets entertaining gameplay. Set within a snug hen house, this game isn't just about the feathered inhabitants; there's a sly fox waiting to feast, and you're invited to join his escapade.
Unveil the Mystique of the Cozy Coop
In the heart of the game's setting, a flock of blissfully unaware hens goes about their day, oblivious to the famished fox just outside their haven. With every spin, you're drawn into the hen house, navigating the quest of the fox, and entertained by refreshingly straightforward mechanics.
Feasting Fox offers a 3×5 grid, incorporating 20 lines. The game boasts symbol tumbling, along with riveting features like stacked symbols, nudging stacks, Symbol Conversion, Respins, Chicken Dinner Free Spins, and even a Buy Feature.
With its whimsical visuals and effortless gameplay, Feasting Fox is designed to captivate. It's a slot game that blends simplicity with excitement, ensuring players remain engaged and entertained.
Behind the Feathers: The Genesis of Feasting Fox
Herbert Paradis, the game's producer, shared the vision that drove Feasting Fox's creation: "Our objective was clear from the start – to develop a game that was unpretentious, enjoyable, and easily understood. We aimed to deviate from the prevailing industry trend of producing intense, high-volatility games. Grzegorz, our acclaimed game designer, believed that Stacked Wilds were essential. Pairing this feature with the delightful Hen and Fox narrative was a decision we knew players would love."
Engaging Features Await
Feasting Fox is packed with a plethora of engaging features:
Wilds: These symbols substitute for all others, save for the Coop Scatter Symbols.
Coop Scatter Symbols: Land three or more to initiate the Chicken Dinner Free Spins round.
Nudge: Activate the FOOOXX!! Feature by nudging a 3-high symbol stack to cover an entire reel.
FOOOXX!!: Transform a 3-high stacked symbol into a wild, and earn a re-spin.
Chicken Dinner Free Spins: Depending on the number of Coop Scatter Symbols you land (3, 4, or 5), you could be awarded 10, 15, or 25 free spins, respectively.
Buy Feature: Fancy a shortcut? Pay 60x the bet to get instant access to the Chicken Dinner Free Spins.
Feasting Fox is in good company
Feasting Fox is yet another gem in Quickspin's illustrious portfolio, joining the ranks of some of the gaming industry's most celebrated titles. Players who've been enchanted by the mystical realms of "Golden Glyph", the adventurous terrains of "Sakura Fortune", or the vibrant hues of "Sticky Bandits" will find "Feasting Fox" equally mesmerizing. Each title, unique in its narrative and gameplay, showcases Quickspin's prowess in delivering captivating gaming experiences. As with its predecessors, "Feasting Fox" promises to be a delightful journey, reinforcing Quickspin's reputation as a master storyteller in the world of online slots.
In Summary
With its heartwarming theme, impeccable artistry, and a bouquet of unique features, Feasting Fox promises to be another iconic title from Quickspin. As you join the fox in his culinary quest, prepare to be enthralled by the allure of the hen house.