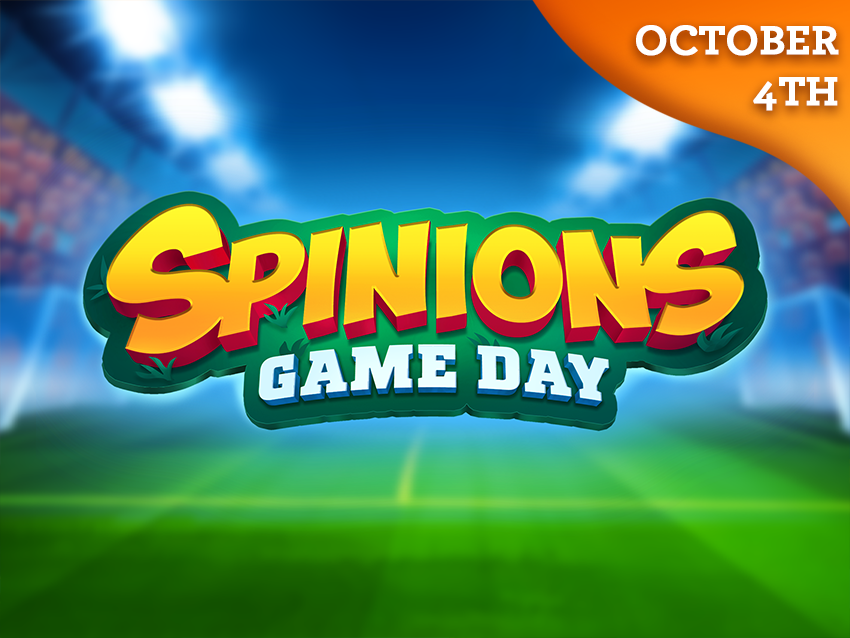 Spinions Game Day – a super-fun and sticky football game for your World Cup promotions
With their contagious zest for life and carpe diem attitude, your favourite orange creatures are back to fulfil a life-long dream: take part in a big football tournament. Welcome to Spinions Game Day!
Strap on your football boots and enjoy a day packed with colourful confetti, squiggly shapes, and lots of enthusiastic cheering – sport has never been this much fun. This game will charm the socks off even the grumpiest referee and convert anyone into a raging football fan.
This is the third instalment in our Spinions series and our most sticky game to date, with a revamped math model for players who really enjoy the classic features and long sessions.
Spinions Game Day is a 5×3 slot with 10 lines, boasting Re-spins, a Free Spins Bonus, and a Buy feature (pay to get instant entry to the Free Spins bonus), plus Passing Wilds that move across the reels and increase the Multiplier by +1. We've also boosted the max win significantly, so it's like a jazzed-up version of our previous Spinions games!
The perfect game for your 2022 World Cup promotions
Spinions Game Day is the third instalment in our popular Spinions series and a must for any 2022 World Cup promotions.
Intended to help sportsbooks push their casino content during the World Cup in Qatar, this Spinions game is a casual and entertaining football-themed slot that's suitable for any player. It will of course work great beyond this cup too, for any football events where you need a fun game for your promotions and campaigns.
The low minimum bet makes this game perfect for cost-efficient campaigns, and it's a very survivable game that will give your players long sessions with tons of fun. With its revamped math model, it's our most sticky game to date!
This game is suitable for all markets and we're offering a full RTP range, which lets you keep healthy margins in any market.
Story behind the game
Herbert Paradis, Producer: "The games in our Spinions series have been our most sticky games so far and players have come to expect the classic features and long sessions, so I'm happy to say this third instalment is our most sticky game to date. It's been really fun to work with this IP and to add a completely new math model, plus brainstorming with the team about what to keep from previous games and what to spice up.
The result is a game with exciting but easy to grasp features. The minimum bet is low, and the game is very survivable, which will be appealing for less experienced slot players.
As a fan of both sports and slots, this has been a fantastic project to work on. I'm really proud of the team and the work they've put in – I think we've created the perfect balance between sports and slots!
And with a full range of RTP models, we've made sure that our partners can use this game to run campaigns with healthy margins when celebrating big sports events. Spinions Game Day will be released right in time for the 2022 World Cup in Qatar!"