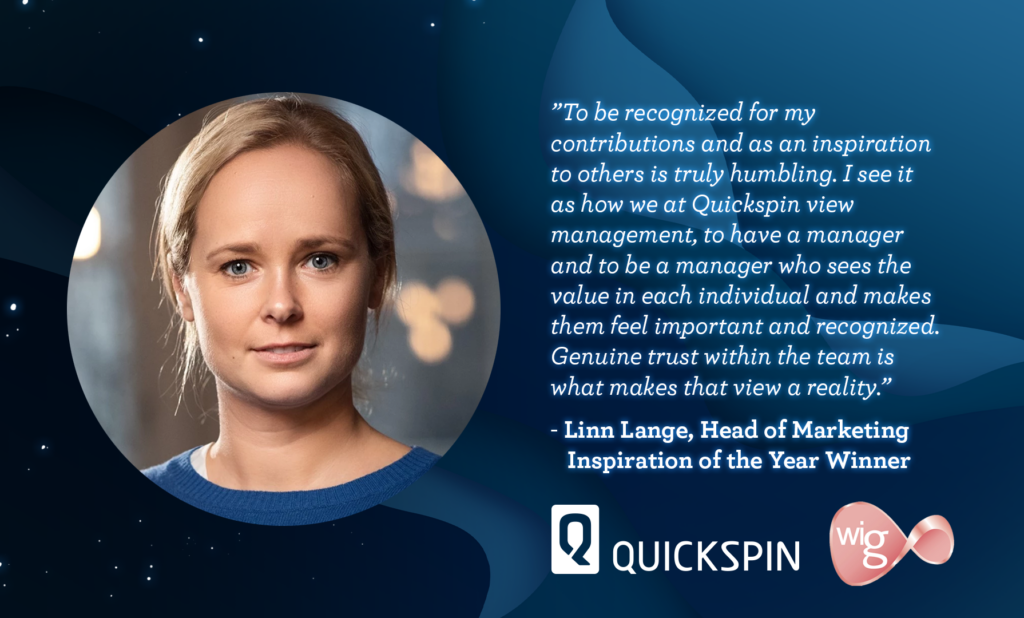 Quickspin's Head of Marketing, Linn Lange, Wins Inspiration of the Year at Women in Gaming Diversity (WiG) Awards
At this year's highly anticipated Women in Gaming Diversity (WiG) Awards, Quickspin stood out among the competition. Nominated in an impressive seven categories, Quickspin's Head of Marketing, Linn Lange, emerged victorious and claimed the prestigious Inspiration of the Year award. Quickspin has published an exclusive interview with Linn:
Quickspin: Congratulations! We are ecstatic about your award; how does it feel for you to be recognised as the Inspiration of the Year?
I'm truly honoured and grateful to receive this award. It's a testament to my journey with Quickspin over the past nine years. The company has grown exponentially, faced numerous challenges and possibilities, and we have all remained dedicated and passionate throughout. To be recognised for my contributions and as an inspiration to others is truly humbling. I see it as how we at Quickspin view management, to have a manager and to be a manager who sees the value in each individual and makes them feel important and recognised. Genuine trust within the team is what makes that view a reality.
Quickspin: As we know, you have learned a lot over these years. Can you tell us about your journey and the growth you've witnessed at Quickspin?
When I joined Quickspin as a Marketing Assistant, the company was smaller, with only about 20 people and releasing five/six games per year, and our marketing department was non-existent. Over the years, as Quickspin expanded, so did our marketing efforts; I was given the opportunity and was trusted to build a marketing department from scratch and transform it into a self-sufficient entity.
I don't have a university degree in marketing, but thanks to Quickspin's view on growth, I have had the opportunity to keep learning at Berghs School of Communication and have the trust of everyone that learning does not have a fixed path, nor is it tied to traditional university degrees. I firmly believe in learning by doing and that people have different learning styles. Quickspin's value of "Always Thrive to Improve" aligns with my personal values perfectly.
Quickspin: You talked about Quickspin's values; how have you maintained your commitment to Quickspin's values while facing obstacles throughout the years?
Quickspin's values are at the core of everything we do, and I've always been passionate about upholding them. One of our favourite values is "Stay Playful," despite the obstacles that have come our way, I've remained dedicated to keeping that spirit alive. Maintaining a positive attitude, fostering creativity and innovation, and finding unique solutions have been essential in navigating our challenges. Seeing our values' impact on the company and its culture is incredibly rewarding.
Quickspin: Your employees have spoken highly of your leadership and the impact you've had on their lives. Can you share your approach to people management and the Quickspin culture?
People management is crucial, especially in today's shifting workforce dynamics. I believe in creating a supportive and empowering environment for my team. By embracing new ways of working, encouraging innovation, and providing guidance when needed, I ensure that my team feels valued and capable of making important decisions. A healthy work-life balance is also my priority, as it allows individuals to thrive and contribute effectively. Ultimately, my goal is to make a difference in the lives of my employees and foster a culture of growth, stability, and creativity.
Quickspin: Many companies have values only cared for on paper, but every Quickspinner can testify that our values manifest in everything we do; what are your thoughts on this?
I think that's true, and the reason relies upon the trust and growth opportunities the company provides. We've nurtured an environment where individuals can grow, learn, and feel valued. This loyalty can only be experienced first-hand, and the evidence lies in the fact that people choose to stay with us despite the competitive nature of the industry, both in terms of product and talent.
Quickspin: How has Quickspin contributed to promoting diversity and inclusivity in a predominantly male-dominated industry?
Quickspin has taken a stand in promoting diversity and inclusivity from the start. We've consciously tried to portray women positively in our games, challenging stereotypes in the gaming industry. By embracing diversity and fostering a welcoming environment, we aim to lead by example and drive positive change in the industry.
Quickspin: Lastly, what drives your continuous dedication to Quickspin's success and values?
Quickspin's values and culture are deeply ingrained in me, and I've dedicated the past nine years of my professional life to the company's success. I'm driven by the belief that we can always improve, that we can make a difference in the industry and that staying true to our values is crucial for our growth and innovation. The passion and dedication of the Quickspin team inspire me daily, and together, we continue to push boundaries and shape the gaming industry
Linn's journey at Quickspin showcases her unwavering commitment to the company's growth, values, and well-being of her team. Her leadership, creativity, and ability to navigate challenges have made her an invaluable asset to Quickspin's success. As Quickspin evolves and embraces new opportunities, Linn's dedication will undoubtedly continue to inspire others and drive the company to even greater heights.
Read more about all Quickspin's nominations at this year's Women in Gaming Diversity Awards: Quickspin Shines at the 2023 WIG Diversity Awards: Celebrating Excellence in Gaming