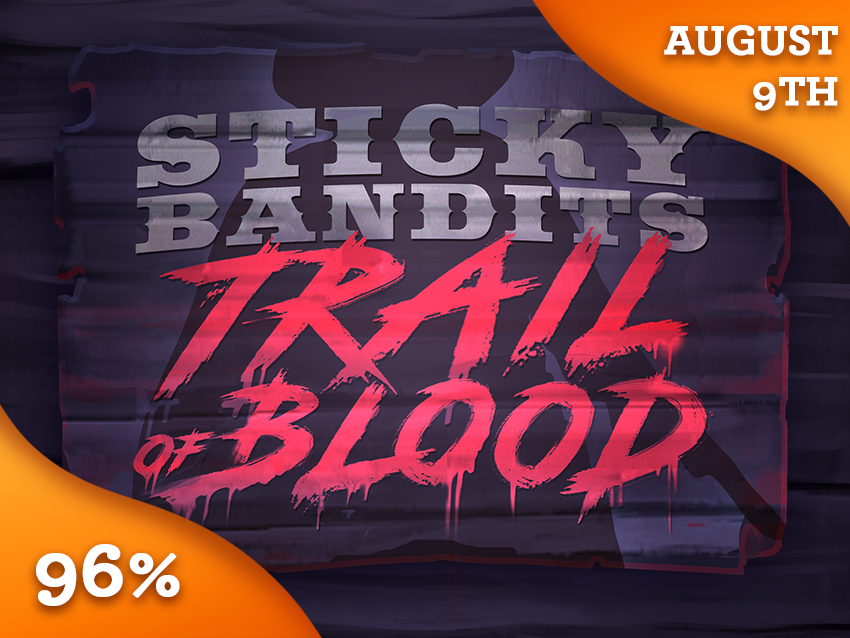 Our Sticky Bandits product line now boasts four strong games – perfect for Tournaments!
Sticky Bandits is one of the strongest IPs in the Quickspin universe and a product line that keeps going from strength to strength. There's so much to love about these games: strong IP, solid narratives, the awesome Sticky Wilds feature, and more.
With our upcoming fourth release on the horizon, this product line now consists of the original Sticky Bandits, Sticky Bandits: Wild Return, Sticky Bandits 3 Most Wanted, and Sticky Bandits Trail of Blood (out August 9th). Each game release has performed extremely well, so we expect nothing less for this upcoming launch.
As a group, these games are perfect for Tournaments and other promotional tools, where you can attract players with a strong group of titles and move them between the games. It's a fantastic way to utilize our popular Sticky Bandits games together to guarantee some solid traffic for your promotional campaigns.
Sticky Bandits
The original Sticky Bandits is still going strong. It remains in the all-time top 5 in our portfolio in terms of gross gaming revenue, and it's still in the top 10 of most played games in our portfolio at the time of writing.
In this game, we throw you into the canyons of the Wild West where you'll help two Sticky Bandits rob a runaway train. It's a thrill-a-minute rollercoaster with massive Wild symbols of the heist villains, with the Bonus symbol and any Wild symbol triggering the Free Spins Bonus.
Sticky Bandits: Wild Return
Our first sequel, Sticky Bandits: Wild Return, was our second best release in 2019 after Golden Glyph.
In this game, a trio of desperadoes are causing havoc in a dingy saloon packed with whiskey, cigars, guns, and skulls. The three bandits show up as normal and massive symbols on the reels (up to 3×3), and there's an exciting shootout in the Free Spins Bonus where all bandits can turn into Sticky Wilds.
There's also an old slot machine inside the game, with a jackpot that can multiply your win with 500x – so there's a chance to win BIG!
Sticky Bandits 3 Most Wanted
Sticky Bandits 3 Most Wanted was the first game to be released exclusively on our own platform. It was also our fourth strongest release in 2021 (in tough competition with Big Bad Wolf Megaways and other great games).
This time, the bad-ass bandits are five fierce women, and their goal is to break into a safe full of cash.
Sticky Bandits 3 Most Wanted is a 3×5 slot loaded with exciting Wilds and Free Spins, plus the Sticky feature that everyone loves. And you don't even have to wait around for the Free Spins bonus – you can pay 60x bet and get instant entry with the Bonus Buy feature!
Clint Andersson, Producer: "Following up on the success of our previous two Sticky Bandits titles, we wanted to make a great tribute to the western genre. Sticky Bandits 3 Most Wanted is a game with a solid narrative, based on the same strong IP as its predecessors.
We created a math model that's a bit different from the previous titles, aimed at players who like exciting and straight-forward gameplay, so the game is a simple 9-lines game with lots of potential. The five cowgirls function as Sticky Wilds, and you win 2,500x if you land a line of five.
I'm really pleased with how everything came together towards the end of production, as all the pieces fell into place and the game feels like a solid quick action slot machine. And there's a chance to win big, with a maximum exposure of 22,000x bet!"
Sticky Bandits Trail of Blood (out August 9th)
Our fourth Sticky Bandits game is the darkest, stickiest, and most volatile of them all. This revenge tale is almost like a completely new game as it's that much darker that the previous ones, but the essence is still there with the Wild West theme and Sticky Wilds feature. This game comes with three well-engineered math models: 87%, 94%, and 96%.
Sticky Bandits Trail of Blood is a 5-reel, 10-line game, boasting high volatility, high max wins, five different Wild symbols (one per reel), and a Free Spins Bonus with Sticky Wilds.
Bjarne Grönnevik, Producer: "Sticky Bandits Trail of Blood builds on the previous three games in our beloved Sticky Bandits product line. This time we've created a darker story with a revenge theme, which is matched by a much darker artistic style. 
We've continued building on the Sticky Bandits mechanic but used a Wild trigger instead of the previous Scatters. It's a volatile game with tons of potential, due to the Sticky Wilds and 'Blood Line' in the Free Spins Bonus, which is what all players will want to chase. If you get one Wild per reel on a win line, they stay sticky for the rest of the bonus game and the game will pay 300x per spin!
The Free Spins mechanic effectively teases the possibility of higher wins by awarding extra free spins for each new Wild."