Play Golden Glyph 3 the way its meant to
The Gods' power cannot be wielded by mere mortals such as ourselves.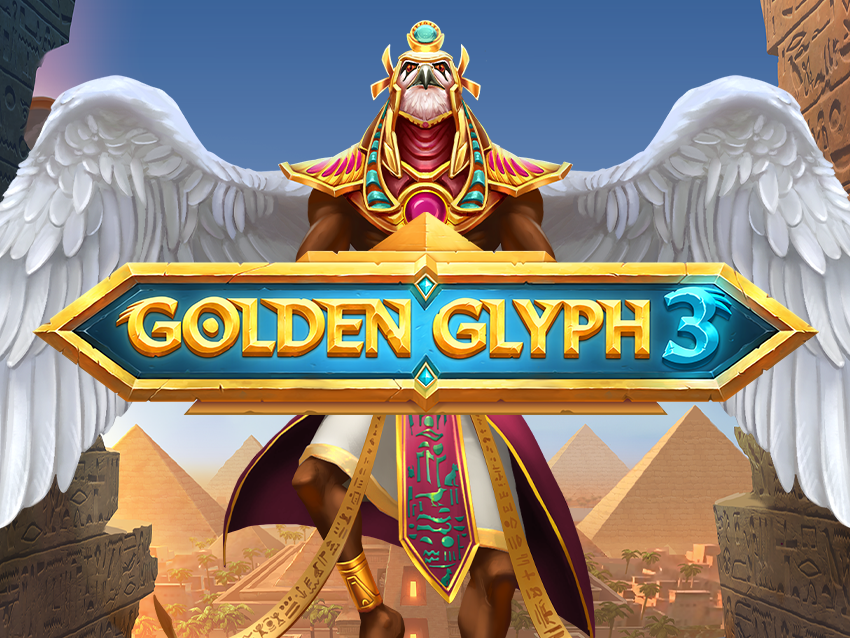 Has history taught us nothing!? The Gods' power cannot be wielded by mere mortals such as ourselves.
Horus played with Power Glyphs™ and Chaos Clusters™ like a baby would a with doll. When we saw him wield those powers with ease, we immediately began plotting to harness them for ourselves. Golden Glyph 3 takes you deep into the heart of Ancient Egypt for another adventure of epic proportions where you can use Power Glyphs™ to trigger Power Ups and gain entrance to the Free Spins round with an unlimited multiplier that's the envy of the gods.
Golden Glyph 3 is a 7-reel, 5 to 9 high cluster-pay, game that features 2 of Quickspin's trademarked mechanics, Chaos Clusters™ and Power Glyphs™ that trigger Power-ups as well as a Free Spins bonus with an unlimited multiplier.
Any symbols that are part of a winning cluster are removed. The empty positions will be filled with symbols falling from above.
Wild symbols replace all symbols except Power Glyph™ and Golden Glyph.
Chaos Clusters™ symbols only need to be partially connected to form a winning cluster.
One Power Glyph™ is created and placed randomly in the cleared space every time you win and will substitute for all symbols except Golden Glyph
Golden Glyph substitutes for all symbols except the Power Glyph™ and is always present in Free Spins. It starts with a multiplier of x2 and does not fall and only moves to a random position between spins.
Active Power-Ups are triggered when there are no more wins:
Turns an entire reel into a single Gigantic Wild symbol
Spawns 2-4 randomly placed Wilds
Several lower paying symbols are removed from the reels
A random symbol is selected, and all non-wild symbols that are connected to it will become the same symbol
The Scarab Bonus Power Up symbol will activate the Free Spins bonus round, which will begin with 6 free spins. During the free spins round, if the The Scarab Bonus Power Up is re-triggered, you will be awarded with +2 spins and the Golden Glyph multiplier will double in value. Every time the Scarab Bonus Power Up is re-triggered, the multiplier doubles exponentially, for example: x2 to x4 to x8 to x16 until the game round ends, or the max win of 10 000x bet is achieved.
You can buy entry into Free Spins by paying a 65x bet.
If a win reaches 10000x bet, the game round will end and the maximum win of 10000x bet is paid out.
In an age where human achievement and technological advancement seem boundless, from moon landings to harnessing the power of the sun, it's essential to pause and consider our place on the precipice of innovation. This reflection was prompted by the introduction of Golden Glyph 3, a captivating online slot developed by Quickspin. The game's narrative revolves around humans witnessing the god Horus playing with Power Glyphs and Chaos Clusters like a child with a toy, igniting their determination to harness these powers for themselves. Against the backdrop of ancient Egypt, Golden Glyph 3 unfolds as the latest installment in the cluster-paying grid slot series, following the successful releases of Golden Glyph in 2019 and Golden Glyph 2 in 2021.
Golden Glyph 3 continues the tradition of delivering a visually stunning representation of the ancient Egyptian world, with pyramids, Pharaohs, and gods bathed in the warm glow of the sun. Quickspin introduced cluster pays with the original Golden Glyph, and the second installment dialed up the excitement with enhanced gameplay and captivating graphics. Golden Glyph 3 carries the torch forward with its compelling cluster-pays mechanic and unmistakable Egyptian theme.
While Golden Glyph 3 maintains the series' high-quality gameplay, it feels like Quickspin may have settled into a comfortable groove, with the progression from Golden Glyph 2 to 3 not as pronounced as the leap from the first to the second installment. However, this observation doesn't detract from the overall enjoyment that Golden Glyph 3 offers. It remains a dependable and engaging cluster-paying grid slot infused with Egyptian charm.
One minor critique is that the visuals in Golden Glyph 3, while of top-notch quality, lean towards a more traditional style compared to the daring approach taken in Golden Glyph 2. The gameplay, which involves hitting winning combinations with Glyphs to activate Power-Ups, may not break new ground but is still a tried-and-true formula and can also be found in games of competitors such as Reactoonz from Play'nGO. Symbol transformations, destructions, and wild transformations are all familiar features, though effective in enhancing the gameplay. The game boasts a maximum win potential of 10,000 times the bet, which, while impressive, is the lowest of the Golden Glyph series.
In summary, Golden Glyph 3 continues the legacy of its predecessors by delivering a solid cluster-paying grid slot experience set in the captivating world of ancient Egypt. While it may not venture into uncharted territory, it offers reliable entertainment and winning potential. For players who appreciate well-crafted gameplay and the Egyptian theme, Golden Glyph 3 provides a satisfying gaming adventure that's worth exploring. So, step back in time to Egypt's glorious past and embark on a cluster-pays journey with Horus and the Power Glyphs.
More slots from Quickspin