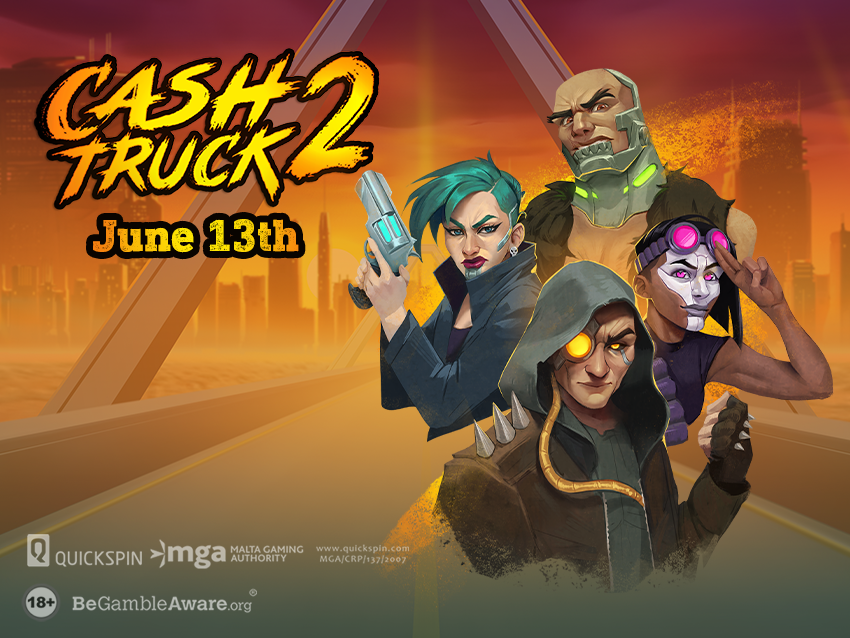 Cash Truck 2: Quickspin's Cyberpunk Sequel to a Gaming Sensation
Fresh off the exhilarating journey of Cash Truck, Quickspin revs up the action, introducing the eagerly awaited sequel: Cash Truck 2. With its Cyberpunk theme and a jaw-dropping Max Win of 35,000x, this game is already setting the online gaming community abuzz.
Dive Deep into the Cyberpunk Realm of Cash Truck 2
Picture a world where the sky radiates a hazy orange and the streets echo tales of a time gone by, marked by towering, crumbling skyscrapers and rusted relics of vehicles. This is where Cash Truck 2 unfolds. Players will rendezvous with a formidable crew:
Vex, the nimble-fingered hacker
Blade, the precise enforcer
Wrexa, the strong-arm with a heart of gold
Shade, the master of shadows and strategy
Their mission? Masterminding the ultimate Cash Truck heists.
Behind the Reels: Crafting Cash Truck 2
Timo Vainiomäki, the mastermind producer at Quickspin, shared the vision behind the game, stating, "We loved the first Cash Truck. It was such an awesome game. We loved to play it and we loved watching others play it as well. After hearing nothing but good feedback from our partners and players about it, continuing on the series was an easy choice for us to make. As it always is when refining a recipe, you take a good base, which was our first Cash Truck game, and you begin adding flavours and spices until you reach perfection. So, with that in mind we took the original game and immediately began thinking of new and exciting features to add to it. I strongly believe that this game has the potential to be a massive success, both for us here at Quickspin and our partners."
Breakthrough Features
Cash Truck 2 is not just about compelling storylines. Quickspin introduces pioneering features to enhance player experience:
Expanding Play Area: Revel in the expanding battlefield as every winning tumble unveils 4 hidden symbols.
Truck Raider Bonus: Triggered by 3 or more Bonus Scatters, this bonus round is a treasure trove, culminating in a sum of all symbols as your prize.
Compressor: A dynamic feature that either resets the screen or boosts the value of the Cash Stack symbols.
Cloner: This tool can either morph symbols on the screen or replicate a high-value symbol, enhancing your winning prospects.
In Conclusion
Quickspin's Cash Truck 2 is an epitome of innovation, gripping storytelling, and unmatched gameplay. With its rich Cyberpunk theme and a treasure chest of features, it's poised to redefine online gaming standards.
Are you prepared to join Vex, Blade, Wrexa, and Shade for a high-octane adventure? Gear up for Cash Truck 2.