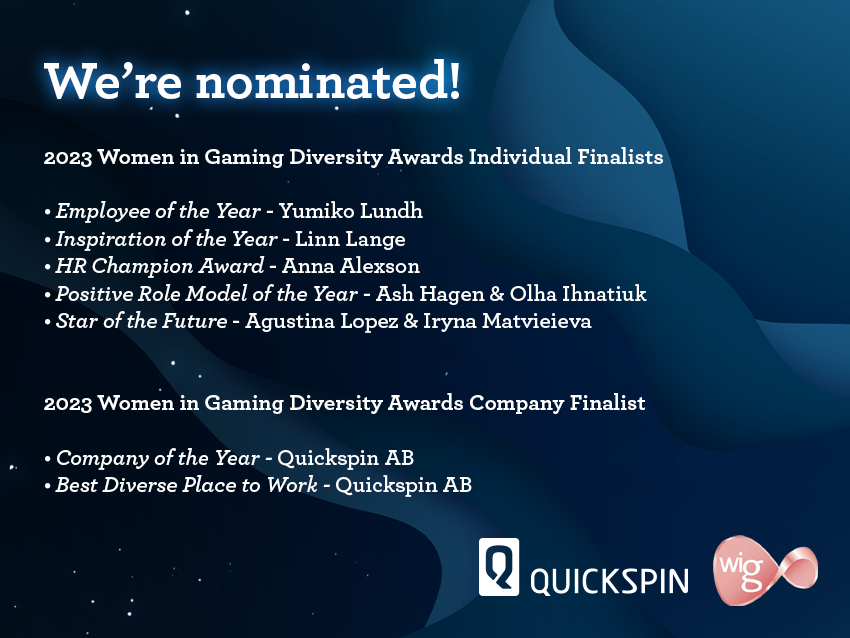 Quickspin Shines at the 2023 WIG Diversity Awards: Celebrating Excellence in Gaming
Quickspin, a leading name in the world of online slots, is ecstatic to share that it has secured a place as a finalist in an impressive seven categories at this year's Women in Gaming Diversity (WIG) Awards. These accolades celebrate our unwavering commitment to diversity, equity, and inclusion within the gaming industry.
Celebrating Excellence Across Multiple Categories
In a true testament to our dedication, Quickspin stands tall as a finalist in two coveted categories: "Company of the Year" and "Best Diverse Place to Work." However, the spotlight doesn't stop there. Seven remarkable women from our team have also been recognized as individual finalists in various categories:
Yumiko Lundh: Finalist for "Employee of the Year."
Linn Lange: Recognized as the "Inspiration of the Year."
Anna Alexson: Acknowledged with the "HR Champion Award."
Ash Hagen & Olha Ihnatiuk: Celebrated as the "Positive Role Model of the Year."
Agustina Lopez & Iryna Matvieieva: Shine as the "Stars of the Future."
Prestigious WIG Diversity Awards
The Women in Gaming Diversity Awards are an esteemed and highly regarded event within the gaming industry. These awards aim to honor both individuals and organizations that have demonstrated an unwavering commitment to enhancing workplace diversity, equity, and inclusion.
At Quickspin, these values are not just words; they are the bedrock of our company culture. We prioritize diversity, equity, and inclusion in every facet of our operations. The recognition bestowed upon us through these nominations holds immense significance.
Quickspin's CEO, Panagiotis Chryssovitsanos, Shares His Pride
Panagiotis Chryssovitsanos, the CEO of Quickspin, expresses his immense pride in the nominations: "On behalf of everyone at Quickspin, I am immensely proud to see these WIG Diversity Awards nominations! It's a testament to our company culture as well as the fantastic Quickspinners being recognized for all their hard work and dedication. At Quickspin, diversity, equity, and inclusion are not just words – this crucial strategic work is driven from a management level – we prioritize them in everything we do. They are the foundation of our success. We are proud to have a team of Quickspinners who come from all walks of life and bring a range of experiences and different perspectives to the table. This diversity makes us stronger, more innovative, and more resilient as a company. We will continue to invest our time in this to ensure a more diverse workforce will always be a part of Quickspin's DNA."
A Proud Moment for Quickspin
As a company, we are bursting with pride to have reached the finals in multiple categories. We extend our heartfelt congratulations to the seven remarkable Quickspinners for their well-deserved nominations. The WIG Diversity Awards ceremony is scheduled for the 8th of June 2023 at The Savoy Hotel in London, and we eagerly await the results, keeping our fingers crossed for all our finalists!