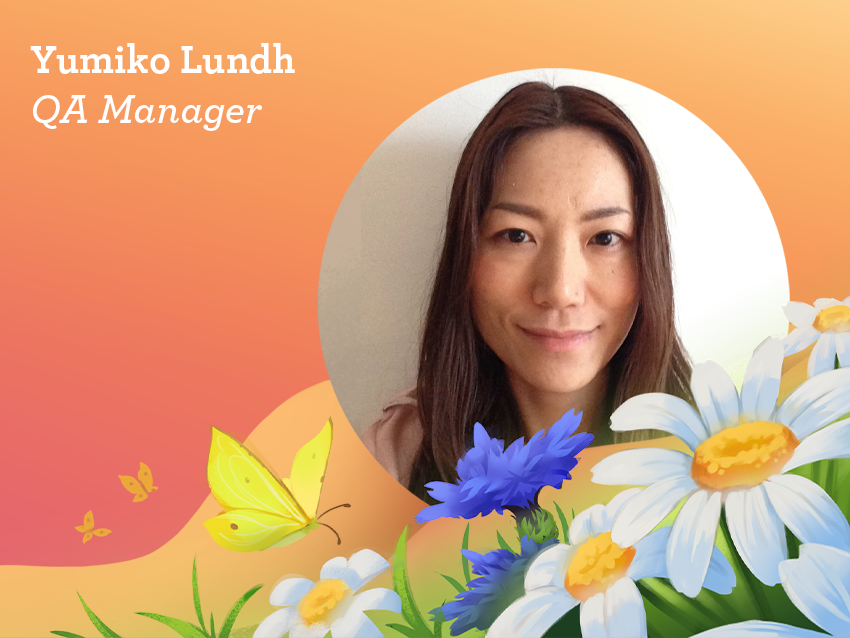 Yumiko Lundh – QA Manager: Fighting bugs with a passion
Are you a casino game enthusiast who dreams of getting paid to play games all day? Look no further than a job in game testing! At Quickspin, game testing is a crucial step in the game development process, ensuring that bugs are tracked and logged with great attention to detail. And lucky for Quickspin, they have a star QA team led by Yumiko Lundh, recently promoted to QA Manager.
We had the pleasure of speaking with Yumiko about her role at Quickspin, her passion for game testing, and what makes her love working for Quickspin.
Fun fact about Yumiko: she used to do boxing and martial arts, so she's not afraid to fight away from the computer screen!
Interview with Yumiko
How long have you been a member of the Quickspin family now?
I've been at Quickspin for about 3,5 years.
Can you tell us a bit about your previous role in the QA team, before your promotion?
My previous role was as a full-time Game Tester. It was sometimes challenging, like when the schedule was tight, and I needed to complete testing and verify bugs in a limited time. But it feels really great when you and your team work together towards the same goal, and then the game receives good reviews after its release!
And now onto your new role. How will you be spending your days going forward?
I will split my time in half: 50% as a Game Tester and 50% in my management role. So I will continue to do game testing, but I would also like to communicate more closely with the other teams and make plans for improvements.
What do you see as challenges and opportunities in your new role?
I think the main challenge will be to balance my role as a game tester with my role as a manager, as testing often requires a certain amount of time. However, I'm feeling very positive about it and I'm confident that I'll be able to handle any challenges that arise!
The good thing is that I'm close with the QA team and I know what we want to improve. I will be able to work closely with the Game Studio managers to share information and have discussions to improve the game development process.
What are your top three favourite things about Quickspin?
It's friendly – the company is full of nice, kind people and you really feel welcome, like you're part of a big family. You can always get help if needed and you can discuss things openly. We always trust, respect, and care for each other. I think that's the best part of this company and it makes it very special.
It's fun – the work environment is always fun and playful. It's related to the fact that it's friendly, but people really do enjoy working in their teams. It's also a workplace that encourages you to be creative and to not be afraid to make mistakes.
It's fast – Quickspin is a fast-moving organisation and as soon as a decision has been made, we make it happen. It's very exciting that everyone is always doing their best to make changes and create great games.
We couldn't agree more! Speaking of games, do you have an all-time favourite Quickspin game?
It's a classic, but my favourite game is Big Bad Wolf – and now also Big Bad Wolf Megaways! These games are very entertaining in terms of the visual effects and the game mechanics.
And finally, what do you most look forward to in 2022?
I really look forward to making more improvements to how we work and collaborating with the other managers in the Game Studio. I'm so happy that we have a great management team in the Game Studio, which will allow
A comment from the VP of Game Studio
Travis Grabau: "Our QA team and our Game Testers are a vital part of the game development process at Quickspin. We're very lucky to have Yumiko in the Quickspin family and I know she'll make a great QA manager! As an experienced Game Tester, she's already had lots of excellent ideas on how we can improve our workflow and processes, so I'm thrilled to see her take on more responsibility and to collaborate more closely going forward."