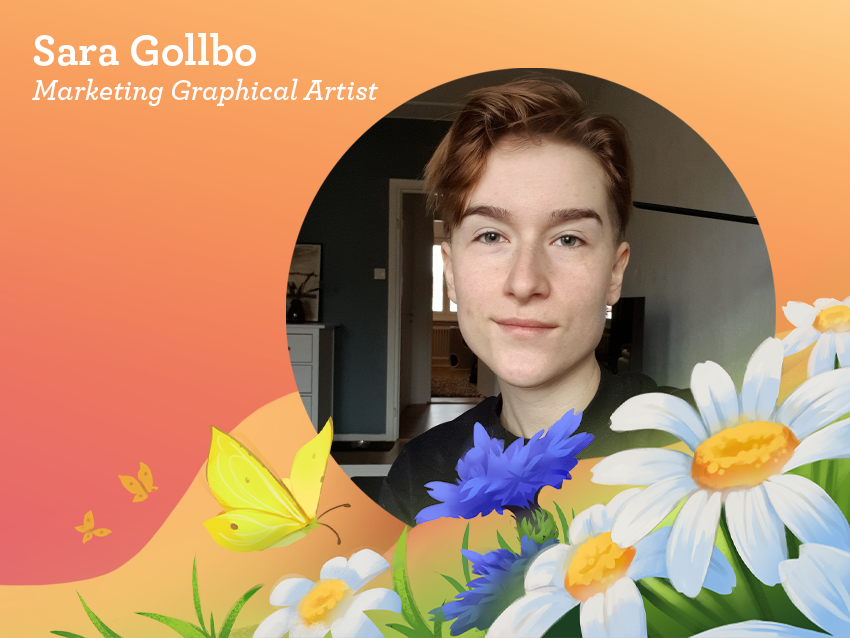 Sara Gollbo – from Futuregames intern to vital member of the marketing team
Today, we'd like to share an interview with our creative superstar Sara Gollbo, who joined us for an internship during her degree at Futuregames. Since walking through our doors two years ago, she's quickly expanded the scope of her work and made herself a vital full-time member of the Quickspin family.
Although her role is in the Marketing team, she truly does work on all things graphics-related, whether it's banners, social media, packaging games – and even redesigning our entire graphic profile!
So, this is your first job in the industry since graduating from Futuregames. How long have you been working with us now?
It's already been 2 years, and the first six months was an internship as part of my degree. Becoming an employee after the internship wasn't a huge transition, but it does make a difference in terms of what kind of work that you do. It also improves your confidence, being an employee rather than a student.
As a new graduate, did it feel like an advantage to be able to try things out and build your confidence and skills in a workplace before becoming an employee?
Oh yes, definitely. Having time to get to know the product, the company, and the overall 'vibe' in the workplace before signing a contract was a huge advantage.
Working in a marketing team wasn't something I had thought of until now, but after being an intern here I quickly realised that I really enjoy the work. My responsibilities have expanded along the way too, which has been really fun!
That's right, you were focused on working in a game team after graduation. How did you end up changing your perspective on this?
Working for a game studio has been a dream of mine for a long time, but if I'd been a graphic designer here I would have been working on one game at a time. In the marketing team, I get to work with and interpret all the productions and convey their message to the world.
And we're so lucky to have you in the marketing team! What does a typical day as a Graphics Artist in this team look like?
Lots of variation and never boring! There's always something new going on every day and I get to work with many different styles and themes at any one time. When I create images based on games, I find it really inspiring to get to use lots of different styles and materials to create new images.
At the end of a game production, there's always a finished product that needs to be packaged nicely. It's great fun to receive a finished product, which is so strongly influenced by that specific graphic artist, and then try to package it in the best way possible. I follow each project during the production and then get to tie it all together and package it up at the end – it's a great mix of layout and creation.
You've adapted quickly and taken on more and more tasks within the company. Could you tell us a bit about that?
I design all the Chinese logos for our games and all the banners for the casino lobby. It's really important to stand out in the lobby, as you only have a second to catch someone's attention with a tiny image! The logo needs to be the main focus and the image needs to have high contrast to catch the eye. It also needs to convey a message so players can quickly understand what kind of game it is. That tiny image needs to convey a lot of things.
I've also had the pleasure of helping out in the game teams, like with Big Bad Wolf Christmas Special, which was really fun! It was great to get a sense of what it's like to be involved in the production, which is what I had always thought I would do. I really enjoyed working with the game teams, who I collaborate with on a daily basis, and to build on an existing game to give it that 'Christmas treatment'.
And on top of that, you've also done a remarkable job with redesigning our entire graphic profile. What was that process like?
Yes, that was a huge and fun project! I wanted to build on Quickspin's existing branding, to keep the playfulness but make it more contemporary.
There are so many parameters that need to sync and align with a product like this. A graphic profile needs to work across so many aspects of the business: the company as a whole, the product, the brand, employer branding, and so on. It needs to be adaptable but remain recognisable at all times. There are many graphic assets and usage areas: anything from Word and PowerPoint templates to social media, the website, and all the marketing material.
It needs to be modular, so I wanted to work with a bunch of base shapes and colours that could be expanded while still being recognisable. I'm very proud of the final result.
As you should be, you did a fantastic job with it! What would you say are the most fun or challenging aspects of your job?
Definitely the mix of tasks. It's both fun and challenging to work with so many different aspects, styles, and end users.
What would you say to a graphic designer who want to work in marketing or at a game studio?
Don't knock it until you've tried it. Be open minded and try it out, to see how it feels. It can really widen your perspective, skills, and knowledge.
And what do you like most about working at Quickspin?
Nice environment, lovely people, and a warm and welcoming atmosphere!