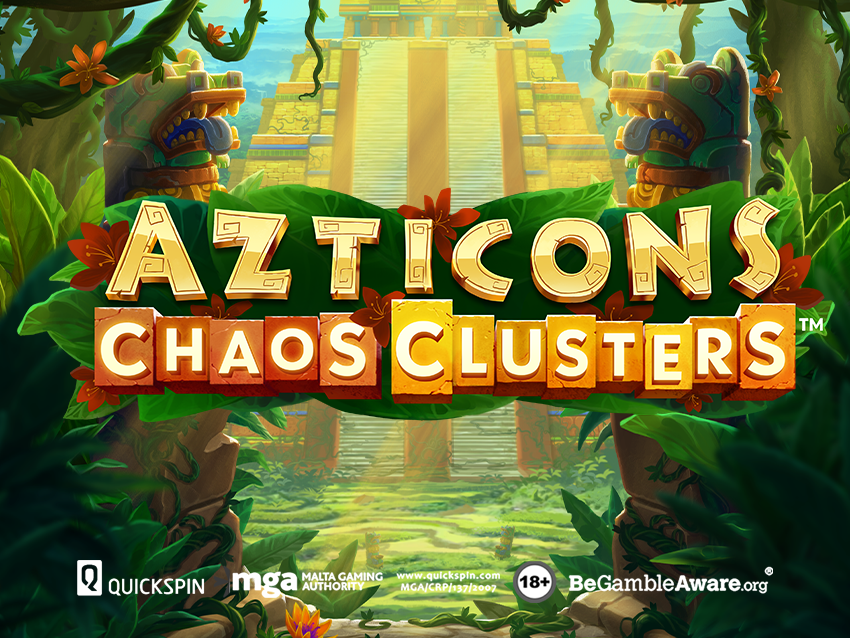 Azticons Chaos Clusters™ – transforming the cluster genre with our new trademarked game mechanic!
Azticons Chaos Clusters™ is one of our big highlights of 2022, introducing a completely new and unique trademarked game mechanic that ties in perfectly with the gorgeous Aztec theme and top-notch visual experience.
The Chaos Clusters™ is a superb new format for cluster games, a trademarked mechanic that opens up for more winning combinations and even longer win chains. The cluster reels boast different sized symbols and the connecting symbols in a cluster win only have to partially connect vertically or horizontally, meaning you can get win combinations that have never been seen before in a cluster game!
This game is perfect for anyone who loves Megaways and Cluster games. It's similar to our Glyph games, but the Chaos Clusters™ adds an extra level of engagement.
Producer quote
Herbert Paradis, Producer: "We've built a game that will cater to many different player types. It's a cluster game with great potential; the high max exposure of 25,000x is pretty unique for this genre and it's quite a survivable game. It also has a Bonus Buy feature, which feels like a must. There's so much potential with the progressive multiplier in the Free Spins Bonus and it really is something you have to experience. So we're expecting players to have a lot of fun, get a lot of bang for their buck, and enjoy all the features when playing! 
 
There are three different math models to suit any market needs for our operators. In our experience, most operators run the 96% version in as many markets as they can, but there's also a 94% and an 87% version for when you need a healthy margin.   
When you work with multiple RTPs, it's always a challenge to maintain the best possible experience for players and it's something we really try to perfect. It's important to us that players get a fun and entertaining experience when playing Quickspin games, and with Azticons Chaos Clusters™ I feel like we've really managed to keep the experience of the 94% and 87% models close to the 96% version."
Features
Azticons Chaos Clusters™ boasts a Twin feature that converts symbols to the valuable Twin symbol, a Free Spins Bonus with a progressive Multiplier and a Retrigger feature, plus a chance to win up to 25,000x your bet!
Turning Twin
After a win and an Avalanche, the game checks if any symbols of the same value and size are aligned horizontally. If two twins are found, then all symbols in between their connection will be fully or partially converted into a Twin symbol.
Free Spins Bonus
Free Spins are awarded when you land 4 or more Scatter symbols. During the Free Spins, there's a progressive Multiplier that increases by 1x with each win.
When you land 4 Scatter symbols, the Free Spins Bonus kicks off with 7 free spins, every additional Scatter you land in that spin will give you +3 extra Free Spins to start with.
During the Free Spins, there's a progressive Multiplier that increases by 1x with each win. The Free Spins can be retriggered, with 3 extra free spins every time you get 4 Scatter symbols. For each additional scatter, you'll get one extra free spin.