Play Blue Fortune the way its meant to
Take an exciting underwater safari with a bunch of pirates!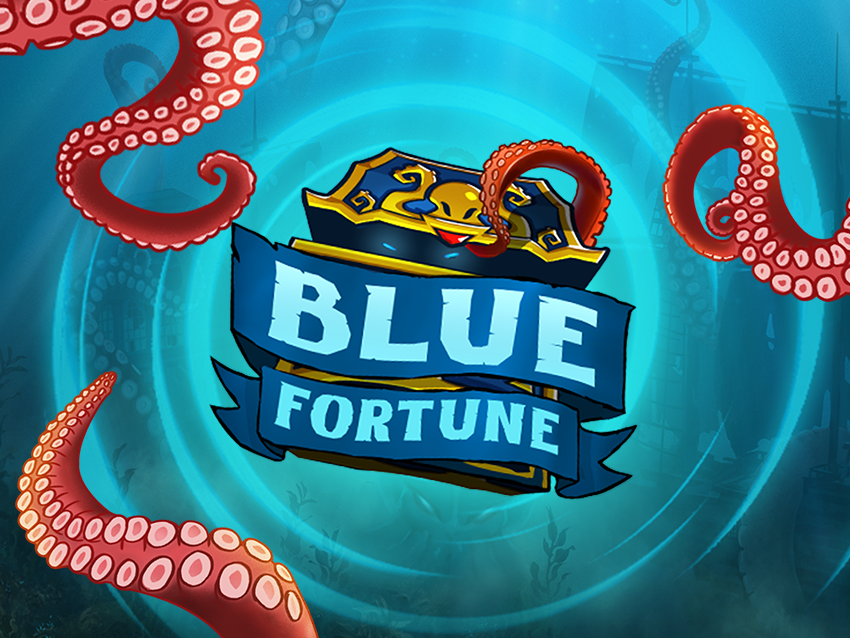 Based on the proven game design in our hit game Northern Sky, Blue Treasure will take you on an exciting underwater safari with a bunch of pirates!
Get your scuba gear on and descend into the depths of the ocean – it's a truly fascinating world down there. Explore the sunken ship under the watchful eye of a giant octopus and other curious creatures. Will you find the hidden treasure at the bottom of the sea…?
Blue Treasure is a 3×5 slot with 9 bet lines, high volatility, Respins on every win, and a Free Spins Bonus that only includes the highest paying symbols!
Any winning combination will trigger the respin feature! All winning combinations will pay and lock in place, and the non-winning symbols will be removed and replaced by new symbols. Any new symbols that complete, or add to, a winning bet line will lock in place, and then the game will pay and respin again. The respin continues until there are no more winning combinations.
When you get 3 Bonus Scatter symbols in one single round, you get 10 Free Spins! You can always see how many Bonus Scatter symbols you've collected in the Bonus meter. Free Spins are always played with the highest paying animal symbols.
Submerged Secrets Await with Blue Fortune. Quickspin whisks players away to the mysterious depths of the ocean, where sunken treasures and aquatic adventures abound. Echoing the enigma of the deep blue, this slot game artfully combines the allure of maritime myths with the thrill of uncovering hidden riches.
Navigating the Abyss: Gameplay Mechanics
Blue Fortune unfolds its narrative on a classic 5-reel layout, where symbols, ranging from haunted shipwrecks to eerie sea creatures, bring the marine lore to life. The gameplay is enhanced with features like respins and symbol swaps, reminiscent of mechanics seen in games like Quickspin's "Golden Glyph" where symbols play a pivotal role in chaining together wins and bonuses.
Deep-Sea Features to Explore
Respins on Wins: Every winning combination triggers a respin, increasing the potential for chained wins, a mechanism that also echoes the cascading wins of games like "Tiger's Glory".
Scatter Collectibles: Collecting scatter symbols unlocks the free spins round, immersing players deeper into the ocean's mysteries.
Symbol Swap: This feature ensures that low-paying symbols can be replaced with high-paying ones, amplifying potential payouts, a trait that reminds players of the transformative features in "Sakura Fortune".
Comparing the Depths: Blue Fortune in Quickspin's Portfolio
In the vast ocean of Quickspin titles, Blue Fortune stands out, not just for its intriguing theme but also for its blend of mechanics. While the respins and symbol transformations can be seen in other Quickspin titles, Blue Fortune's underwater narrative lends these features a fresh context. It might not have the intricate grid design of "Golden Glyph" or the intense battles of "Tiger's Glory", but Blue Fortune offers a serene yet mysterious alternative for players seeking a thematic escape.
In conclusion, Blue Fortune is a dive into the unknown, where every spin promises a blend of marine myths and potential treasures. Whether you're drawn to its theme or its features, this slot offers a deep-sea exploration that is both captivating and rewarding.
More slots from Quickspin