Play BigBot Crew the way its meant to
Join the crew, build the bots, win big!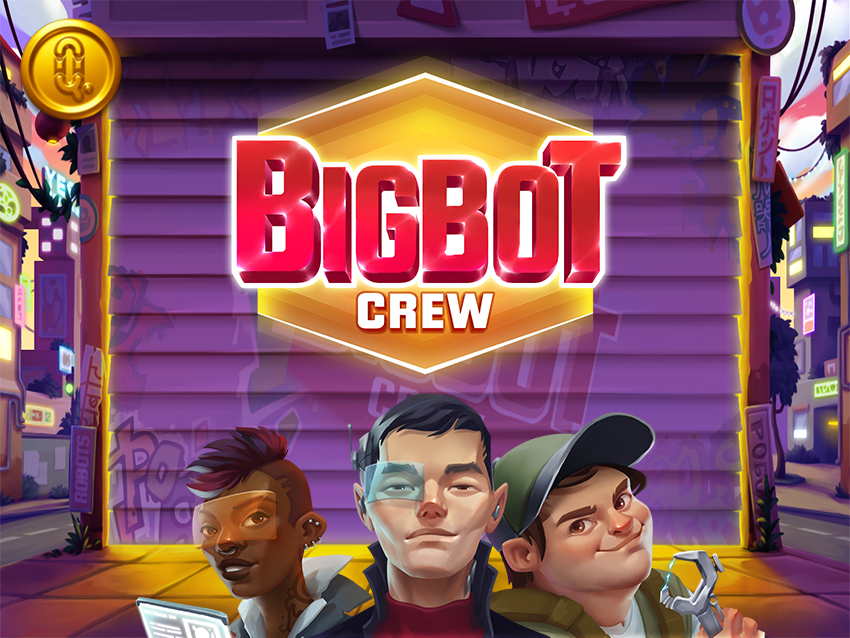 In BigBot Crew, a bunch of techy teens are building the robots of the future!
Join this disparate gang in the outskirts of a sprawling metropolis, and enter a parallel universe of fast-moving, high-impact graphics and a ton of action in an extremely volatile 4×5 reel slot with 40 paylines.
But don't worry, you won't get lost in this futuristic maze, as a cast of helpful robots help guide you through the game with special symbols. These include the BigBot Wild and the Bonus Scatter symbols, which trigger respins and initiates free spins.
So, it's time to get tech savvy and venture into this robotic adventure!
When two or more BigBot wild symbols land fully in the base game, it triggers the BigBot Respin feature! The number of respins is the same as the number of wild symbols in the triggering spin. All full reel BigBot wild symbols remain on the reels for the duration of the respin feature, while each extra Robot that appears will award one extra respin.
There's also a special Nudge feature! If a BigBot Wild symbol appears on two or more reels in the base game, any of the partial BigBot Wild symbols might nudge to fully cover the reel. And during the respin feature, any partial symbol might also nudge to fully cover the reel.
There are lots of free spins to be had! When you get 3 bonus symbols in one spin, it gives you 8 free spins. You also get an additional free spin for every BigBot Wild symbol that lands fully on the reels. Also, any partial BigBot Wild symbol that lands during Free Spins is guaranteed to nudge to fully cover the reels. The free spins feature will pay until there are no free spins left.
A Glimpse into Tomorrow's World Overview
Set in an ultra-modern metropolis, the Big Bot Crew slot transports players into a future where tech-savvy teens and their colossal robots reign supreme. Quickspin has outdone itself with a unique theme, complemented by vibrant graphics and a captivating soundtrack, immersing the player in a world where technology and rewards await.
Rolling the Reels: Dive into the Mechanics Engaging Gameplay
Big Bot Crew is not just about stunning visuals. With its 5 reels and 40 paylines, it offers ample opportunities for players to strike it big. Special features like the Bigbot Respins and Mystery Nudge not only amplify the thrill but also significantly bolster potential payouts.
Special Features to Look Out For
The game is laden with exciting features:
Bigbot Respins: Triggered by landing two or more full-reel Bigbot wilds, this feature promises extra spins and higher chances of winning.
Free Spins: The coveted scatter symbol, when hit right, gifts the player eight free spins. During this spree, any Bigbot wild landing on the reels nudges its way to dominate the entire reel, granting an additional respin.
Mystery Nudge: A delightful surprise where two partial Bigbot wilds might just nudge their way to become full reel wilds, paving the way for the respin feature.
Comparing the Bot: How Does It Measure Against Quickspin's Arsenal? Standing Tall Amongst Peers
Quickspin has a repertoire of engaging slots, but Big Bot Crew stands out with its innovative theme and feature-rich gameplay. While games like "Sticky Bandits" and "Dragon Shrine" have their charm, the futuristic appeal of Big Bot Crew, combined with its high volatility, makes it a top contender for those seeking a mix of adventure and potential rewards.
In conclusion, Big Bot Crew is more than just another slot game. It's an experience, a journey into a future where robots and riches go hand in hand. Whether you're a newbie or a seasoned slot enthusiast, this game promises a roller-coaster of emotions and rewards.
More slots from Quickspin