Play Beastwood the way its meant to
Slay dangerous beasts with your golden harpoon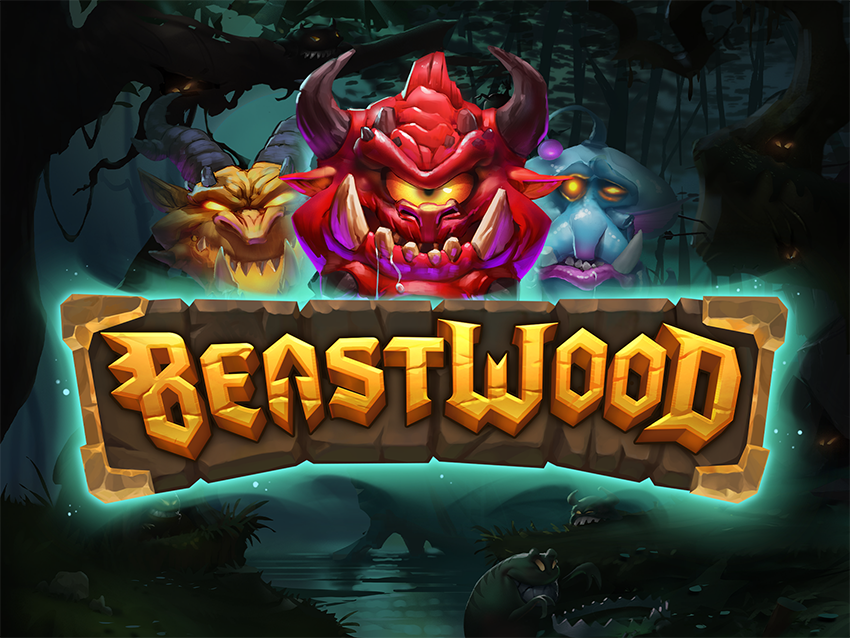 Like a lone pirate on dry land, Mr Beastwood is combing through the forests of Beastwood in search of monsters. When this former sea bandit found out there's fame and fortune in the monster-hunting business, he swiftly ditched his crew at sea and changed careers.
Striking out on his own, he now spends day and night slaying dangerous beasts with his golden harpoon. Join him on his first mission, where you'll track down monsters with scrolls and trap them with gold chains. There's a surprising number of monsters hiding in the foliage – and great rewards to be had!
Beastwood is a Ways game that introduces a new original IP and a continuation of the fan-favourite mechanics from Wins of Fortune (2017) and Wild Chase: Tokyo Go (2019). This slot is 4 reels high and boasts high volatility, a chance to win up to 29,000x your bet, a Buy feature, Expanding Ways that can grow forever (a grid that grows with each win), Symbol Win Multipliers that multiply your win if you hit two or more of the same symbol, Reel Multipliers that double your win, plus an exciting Free Spins Bonus where the multipliers really start to pay off!
Each win is awarded a multiplier of x1 to begin with. The Symbol Win Multiplier can be increased by the Reel Multipliers, and if multiple copies of a symbol land on a reel and they're part of a win. Whenever a new multiplier is won, it multiplies the existing Symbol Win Multiplier. Each symbol has one pay table entry. The win amount awarded for each win at the end of a spin is the pay table entry for the symbol, multiplied by the respective Symbol Win Multiplier.
A win consists of a chain of at least 3 reels that contain the same symbol type, starting with the first reel.
The game starts off with 3 reels. If there are any wins, an extra reel is awarded on the right-hand side of the reels. Whenever an extra reel extends any existing win, another extra reel is awarded.
During the base game and starting from reel number 5, every third reel has a Reel Multiplier. These Reel Multipliers have a x2 multiplier attached to them. Whenever a win has a reel with a Reel Multiplier as part of it, the multiplier is applied to the win.
In the base game, landing 4 or more Bonus symbols anywhere on the screen will award free spins. When you get 4 Bonus symbols, 10 free spins are awarded. Any additional Bonus symbols will award +3 free spins. During the Free Spins Bonus and starting from reel number 4, every reel has a Reel Multiplier. Each Bonus symbol that lands on the reels during the bonus game will award +1 free spin.
In Beastwood, a brand-new casino slot from Quickspin, players are taken on an adventure into a dark and scary woodland teeming with dangerous monsters. On this exciting trip, we get to tag along with Mr. Beastwood, a former sea bandit who now spends his days killing deadly monsters and collecting large rewards. Reel Multipliers and Free Spins are only two of the slot's many enticing features.
Beastwood is a Quickspin video slot game that initially contains 3 reels and 4 rows. However, whenever a win occurs, an additional reel is added to the game. This Endless Reels mechanism, like the Infinity Reels mechanism, has the potential to obtain a limitless number of reels and, by extension, an infinite number of winning combinations. You can place a minimum bet of 0.20 and a maximum bet of 100. The game offers high volatility and an RTP of 96.11%, with the potential to win up to 29541 times your initial bet.
The game's reel structure, which initially has 3 reels and 4 rows, may grow quite quickly once the wins begin to accrue. It's similar to the Infinity Reels feature, where winnings unlock additional reels. Long winning streaks may result from this. In the regular game, the reel multipliers begin on reel 5, and in the bonus game, they begin on reel 4. They can help you rack up huge payouts in a hurry because of their 2X multiplier. When you watch the events unfold as wins are made, the interaction between these reel multipliers and the endless reels concept is excellent and produces exciting moments.
The game's design is based on a monster theme, in which players team up with monsters to acquire riches. The creatures' eyeballs may be seen dotting the creepy woodland in the background of the reels. It is a slot machine with a sleek design, and the attention to detail in both the symbols and the environment is sure to put the player in a good mood right away. 
Even in a hostile environment where danger lurks around every corner, there is always the chance of striking it rich and bringing some much-needed sunshine into your otherwise bleak existence. It is a slot machine with a sleek design, and the attention to detail in both the symbols and the environment is sure to put the player in a good mood right away. There are multiple theoretical payout percentages (RTPs) for this game, and you should find out which one your gambling provider employs before you start spinning the reels. The player's chances of winning large are significantly reduced by lower RTPs. The player's bankroll can fluctuate wildly as the game progresses, but there is also the chance of striking it rich with sudden wins, increasing the maximum payout to an incredible amount.
More slots from Quickspin